Two Top 15 Finishes for Abbate in Trans Am TA2 National Tour Debut at Road Atlanta
November 26, 2020
The 2020 Trans Am National Tour season finale double header event was held this past weekend at Road Atlanta. Due to the COVID-19 pandemic the weekend was changed to a double header event to make up for a previously cancelled event, and it also became the season finale when the scheduled final round at Laguna Seca was also cancelled.

Driver Michele Abbate teamed up with BC Race Cars, out of Canada, to pilot their #20 TA2 Chevrolet Camaro for her national debut.

"This was such an amazing and invaluable opportunity for me to get into a properly set up TA2 car and expand my experience with a team that has the knowledge and tools to provide a winning car," Michele explained.

Abbate had never raced at Road Atlanta, so she came into the weekend having to learn the challenging and iconic 12-turn track.



Photo by Kyle Quattromani

Thursday provided one 25 minute test session where Abbate was able to put down her best lap of a 1:30.1, "My realistic goal for the weekend was to be a sub 30, and I am super confident I will find more time out there. The car is on rails and I am shocked at how much better it drives than my car; a really amazing discovery for us" she shared.

In Friday's practice session she put down a 1:27.2 her fastest lap of the weekend, and backed it fairly well in qualifying with a 1:27.3 putting her in the P17 position out of 26 for Saturday's race. "I am really happy with this result. My goal is to finish in the top 15 in the race and this has put me in a great position to do that", she smiled.

Saturday's race was held in the late afternoon with the setting sun. Unfortunately just a few laps into it she lost power to to AiM data dash display leaving her without any data from the car, no gauges, feedback, and a poor radio connection. She was forced to shift the car by the sound of the revs and ran as high as 13th place. She managed to capture the 15th place (unofficial) by the end of the 100-mile race.

"This was exactly my goal and it feels so good to accomplish it! A big feat for me and I am so grateful to have made this showing! Tomorrow we have another chance at it and I look forward to possibly bettering our result!"

Her best time in the race placed her P16 for Sunday's feature race which included all 55 cars and 5 classes on the track.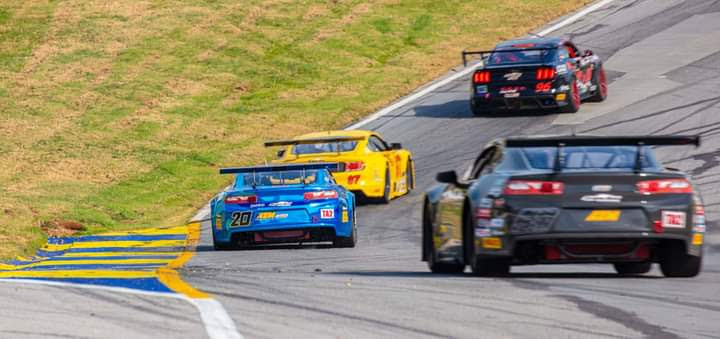 Photo by Kyle Quattromani

"It will be an interesting showdown and I'm looking forward to the experience", Anthony Philleo shared. Anthony had been part of Abbate's crew on the BC Race Cars team and was a great weekend of learning for him as well.

When the green flag dropped Abbate was on a mission. She was able to have some really great racing with her competitors as well as other out of class cars. She was running in the 12th position when an SGT car had found itself in the mix of a heated battle between Abbate and Sheehan.

As the two exited 11 and into 12 Abbate was on the inside without much room on the exit. She straddled the rumble strip with her two inside tires in the dirt which sent her sailing into a violent spin onto the front straight away, the TA2 car behind her drove into her right rear continuing her spin further.

Abbate was able to keep the #20 BC Race Cars Chevrolet Camaro off the walls and get back on track. Although all four of her tires had flat spots she was still able to earn a P12 finish (unofficial) and complete the remaining 18 laps of the race with excellent pace.



Photo by Kyle Quattromani

A massive charge with not the most ideal conditions but still an extremely impressive run in her debut in the national series of Trans Am. Abbate had excellent pace throughout the race weekend, showing a very capable ability to run with the best in the nation. Not to mention it was her first time racing at Road Atlanta and she adapted very quickly to the track.

"This was such an amazing weekend for me and my team. BC Race Cars gave me one of the best cars I have ever driven on a race track and I have come out of the weekend with new found confidence, knowledge, and abilities behind the wheel - a completely invaluable experience!", Michele shared.

Abbate continues to pursue her dreams of racing in the National tour full time as she continues to seek the funding and support necessary to make it happen. "We are seeking a title sponsor who wants to join us and continue to make history on the Trans Am series", she stated.

With the cancelation of the final rounds at Laguna Seca Abbate wraps up the 2020 West Coast Championship series with 2nd place overall, trailing first place by just 3 points.




For the first time in its history Trans Am will be having their 2020 Championship Awards Ceremony live on zoom and it will be open to the public! They will also be hosting additional year end awards where fans can vote for their favorite drivers in certain categories, so stay tuned for more details on that so you can show your support for Michele and her team!

You can catch the replay of the livestream race broadcast on the Trans Am app, Trans Am Facebook, or YouTube page!

The Grr Racing team is working on their 2021 plans and looks forward to maximizing in the off-season.